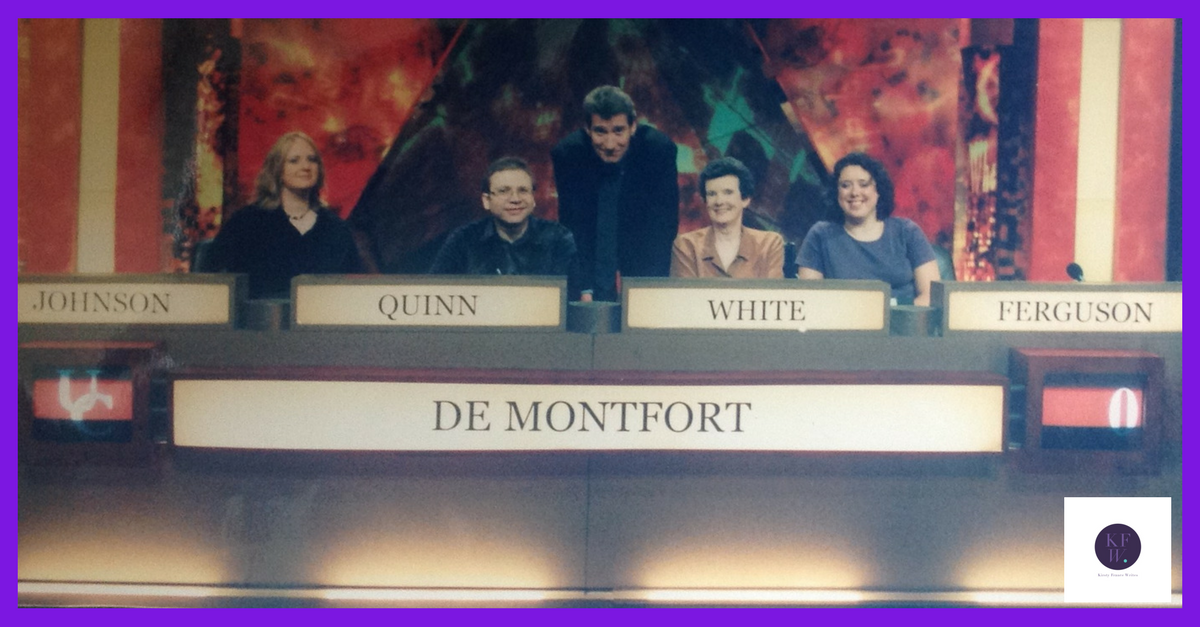 Do you recognise the girl in the picture?  If not, I'll enlighten you.  That's me, with my maiden name, 15 years ago, appearing on 'University Challenge'.
I had always lacked confidence because I was a generally unpopular, bookish child at school. Things improved in my teens and I had a much better time when I eventually went to university.
I loved pub quizzes, mostly because it was a good night out with my friends and sometimes we won beer.  So when I spotted an advert asking for people to take part in a quiz show, I applied.  It turned out to be 'The Weakest Link.'
Lights, camera, action!
When we walked into the 'Weakest Link'  studio they got us to sing.  I was introduced to eight complete strangers then we marched into the studio singing 'Delilah' at the top of our lungs.  Funnily enough, Sir Tom cropped up on 'University Challenge' too.  As a result, I was on a high when I took my place behind the podium.
For the first two rounds my heart was pounding so loudly I could hardly hear the questions but I made it through somehow.  I can't even say that I found Anne Robinson all that frightening.  Between rounds when we took a quick break, she was actually quite friendly.  The difficult bit is trying to answer questions whilst remembering who got them wrong.
Sadly, I didn't win.  I was voted off fifth even though I wasn't the worst player.  I know that I was despatched with 'you are the weakest link – goodbye' but I have no memory of it.
The next step
Buoyed by the fact that I hadn't completely disgraced myself, I went back to university to see lots of posters with Jeremy Paxman's face on them.  Not that appealing to everyone, I suppose.  After a few rounds of auditions I was on the team and we had a first round place on the show.
'The Weakest Link' was a daytime show on a bit of a budget.  At 'University Challenge' you get treated really well.  We travelled up to Manchester where we were going to be staying in a hotel after we'd filmed.  I know – licence payers' money going towards getting students drunk in Manchester!  By the time we got off the train we'd already sussed out that both Leicester University and Sheffield were going to be filming on the same day.  We were praying for one of them to be our opponents.
Facing Mr Paxman
Sadly not.  We were the only former polytechnic to have qualified and we drew Imperial College in the first round.  They were the reigning champions and they'd even had coaching on how to buzz in first.  We brazened it out anyway.  It's hard to feel pressured when they're filming 'Stars in their Eyes' next door and you can hear 'What's New Pussycat' coming through the green room wall.
Of course we got thrashed.  But we had a great night out.  One of my team mates saw the Imperial College team at breakfast the next day and they seemed quite astounded that we'd been out drinking.  That made us feel a lot better.
Confidence for life
Do you know what the best part was?  Knowing that I could be brave.  I tell people the story now and they tell me they wouldn't have the confidence.  The thing is, you can.  When you do something brave, it gives you the confidence to try something else.  The way people react to you changes and you want more.  You feel proud of yourself and it gets addictive.
What do you want to try?
If you want to try a new approach to your content marketing, I'm for hire! Get in touch or register here to receive regular updates and special offers.