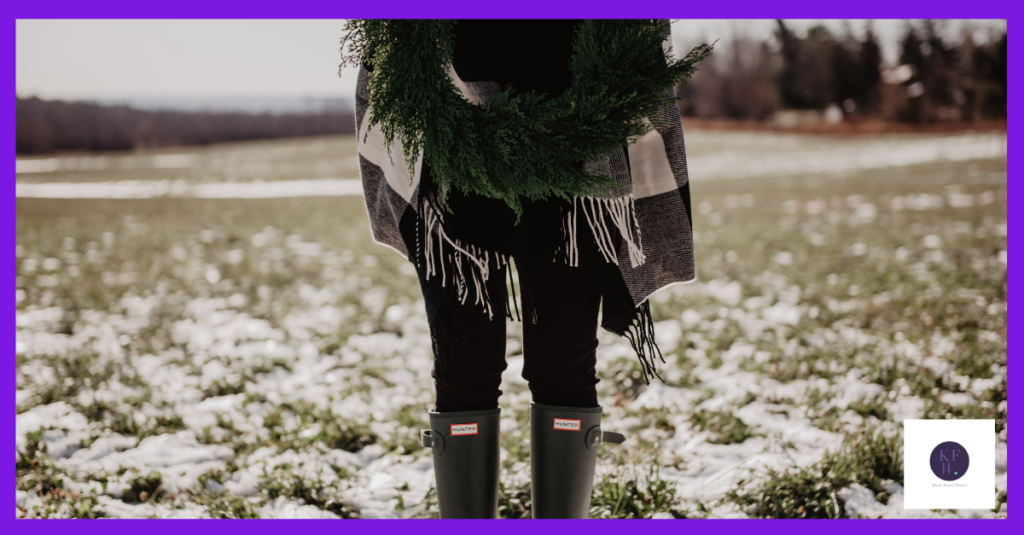 Mary watched the fields flash past her window in a green blur as Sam steered the car along the narrow country road. They'd only just left the M1, but she already felt like they were in the middle of nowhere. Bliss. She flinched slightly as the branches of a dark green conifer clattered against the window. The sat nav announced their destination was half a mile on the left. Mary leaned forward in her seat, hoping to see the little house where they'd be spending the next three days.
She tried to forget how her mum had looked at her as they packed up to leave — disheartened and a little bit sad. Mary had known in advance that two days would be enough. Christmas Day with her parents and her younger sister was always fun, and she loved seeing the extended family on Boxing Day, but she knew Sam struggled. Her family's Christmas centred around eating, drinking and watching TV, and Sam started to get cabin fever. They'd gone for a walk, but a stroll around a suburb was a long way from his childhood, spent climbing the Malvern hills whenever he got the chance.
Mary remembered her childhood Christmases when everyone had stayed together in her grandparent's house from Christmas Eve until New Year's Day. It had been heavenly when they were children, but now she wondered how the adults had managed to stay sane. Perhaps that was why her Dad and Uncle John had started drinking so early on Christmas morning.
Next year it would all be different.
…
"There it is!" Sam said, sounding as excited as a five-year-old. He indicated and turned off the narrow lane onto a block-paved drive. Mary sighed happily. The cottage was just as lovely as the photos suggested, with beautiful red bricks and fields stretching away into the distance. She turned to look at Sam, and her smile widened when she saw his face. He looked more relaxed than she'd seen him in months.
"It's beautiful, Sam." They climbed out of the car, and Mary stretched her arms upward, lowering them again to rub her back. "Oh, God."
"What? You OK?"
"Yes, I'm just such a cliché. A little Weeble with an aching back."
"You don't look remotely like a Weeble. Much sexier." She wrapped her arms around his neck and kissed him. Remind me of that when we've got a newborn, and I feel like I'm made out of rice pudding."
Sam looked down and rubbed her belly. "It's a strange thought, isn't it? Next Christmas, we'll have a ten-month-old crawling all over the place."
"Yep. Weird. Anyway, let's make the most of the peace and quiet and get inside."
"Your wish is my command, oh Weeble-ish one."
Mary laughed, reflecting that Sam was lucky she hadn't picked up her handbag, or she might have walloped him with it. She watched as he took their suitcase out of the boot, opened the passenger door and retrieved her bag from the footwell. They definitely wouldn't be able to travel this light next Christmas. She realised they'd have the perfect excuse to stay at home.
…
"They've left us some teabags and milk," Sam called as Mary shut the front door behind her. She smiled at his unerring ability to find the kettle wherever they went and followed his voice into the kitchen, where he was already rummaging in cupboards looking for mugs. "I'll take the case upstairs when we've had a cup of tea. What are you smiling at?"
"The fact that nothing starts without tea."
"Quite right too."
She wrapped him up in another hug, stroking his cheek as she kissed him.
"Do I need a shave?" he asked, feeling for stubble.
"Nah, you're OK." She groaned as he rubbed her back, then felt him hesitate. "Don't worry, that was a good groan."
"Did you see the pictures of the bathroom?"
"With the lovely slipper bath? Yes. I can't tell you how much I'm looking forward to a proper soak. The only problem is, you might have to hoist me out."
Sam tried and failed to suppress the snigger. "Sorry. Tell you what, let's have tea, and I'll check whether I've got a signal in case we need to call the fire brigade." He ducked away as she tried to slap him on the shoulder.
…
Mary followed Sam up the stairs as he carried the suitcase into the main bedroom. It was glorious, with a king-sized bed and views out over the fields to the woods beyond. The listing had said that there were 14 acres of land across the farm, and they were welcome to walk anywhere they liked. Sam had put the case down and was gazing out of the window. She told him that she was going to run a bath and headed across the landing to the bathroom. The smell hit her before she opened the door. She hesitated, half wanting to know what was behind the door and yet not feeling ready to face it. She realised she was standing completely still with her hand on the doorknob and felt faintly ridiculous. Eventually, she decided to stop dithering and turned the knob, pushing the door open in a single movement.
It wasn't the first time she'd seen a dead body. She'd been there when Sam's mum had died eighteen months ago when cancer that treatment had held at bay for three years had finally overtaken her. This was different. Emma had looked peaceful. This man's life had clearly ended with violence. Even if the rope hadn't been left, tied tightly around his neck, his face would have told her that. Mary had always thought that people who found dead bodies screamed, but she didn't feel the need. She was shaking, transfixed by the man's contorted face.
"Mary? Are you OK? Is anything wrong with the bath?"
She almost called back to tell him that, yes, there was a dead body in it. That made her feel ridiculous, and she giggled, clapping her hand to her mouth at the inappropriateness of it all. She turned and headed back to the bedroom. "Don't go in there," she said, "because there's a dead man in the bath."
"What? Are you kidding?" He turned to look at her and realised that she wasn't. "God, you're shaking." He took hold of her and sat her down on the bed. "You're sure he's dead?"
Mary nodded. "We need to call the police."
…
DI Fitzgerald and PC Jones had been impressively efficient, arriving within an hour of Sam's call, shortly followed by a pathologist and two forensics staff. Mary sat on the sofa next to Sam as DI Fitzgerald asked her to tell him about her discovery. She'd been surprised at how easily the details came out; the smell, the position of the body and the cord around his neck. Fitzgerald had nodded encouragingly, watching her with his piercing blue eyes. She wondered what it would be like to be a suspect facing that searching look.
"That's excellent, Mrs Collins, thank you. Can I ask, have you ever seen him before?"
"No, I don't think so."
"What about you, Mr Collins?"
"I didn't see the body. I'm a bit squeamish, to be honest."
Their conversation was interrupted by a cough from the doorway. The pathologist had appeared and asked to speak to DI Fitzgerald. They disappeared into the hall, and when the police officer returned, he was smiling.
"I have some good news for you. We're ready to remove the body. It looks like we might have a possible ID. You'll be relieved to hear that I won't be asking you to view the body, Mr Collins. Hopefully, you can both have a restful night, even if you don't fancy a bath."
Mary groaned, "I was looking forward to that."
Fitzgerald smiled. "A warm bath was the only thing that helped my wife's backache when we were expecting. The forensics officers have almost finished with the bathroom, so we'll be out of your way shortly."
…
Mary and Sam wished the departing officers a happy Christmas as the last cars pulled away from the house.
"Alone at last," Sam said. "They were a lot quicker than I thought they'd be. Are you OK?"
Mary nodded. "I'm fine, and surprisingly hungry. What have we got for dinner?"
…
A large pizza, garlic bread and ice cream later, Mary lay back on the sofa, rubbing her belly. "I think the baby likes pizza; she's kicking like mad."
"Don't you mean he?" Sam teased, sitting down next to her with a glass of red wine. "I'm sorry you didn't get your bath."
"I don't mind. I'm just happy to be here, just the two of us." She lifted her glass of elderflower fizz and clinked it against Sam's. "Here's to the next adventure."
"Cheers," Sam replied. His face creased with concern as they heard a knock at the door. "Who can that be? It's pitch black out there." He heaved himself off the sofa and put his glass on the table.
Mary felt a shiver go through her. She felt that something wasn't right, and got up and followed him, reaching the door just as he opened it.
"Mr and Mrs Collins? I'm sorry it's taken us so long to get to you. It's been a busy night."
The two police officers extended their warrant cards into the light.