Hello!
I'm constantly telling my clients how important it is to share a bit of personality in their marketing, so here I am practicing what I preach. (Actually, I don't just do it here. If you read my blogs or follow me on social you'll know I do it all the time. Sometimes I wonder if I overshare, but I'll let you decide about that.)
The best small business marketing content is the kind that bridges the gap between the things that make you, you and the stuff your customers care about. That's hard enough to do when you write it yourself, but when you work with a writer like me we need to be able to talk to each other. It's probably the same for you and your customers. One of the reasons they choose your business over someone else's is because they like you, what you offer and the way you come across.
So, am I your kind of person? Let's find out.
Early years
My grandpa was a publisher and I had a library before I was born, in fact my mum still has most of it! Some of my earliest memories are of being introduced to authors when grandpa was part of the welcoming committee. My dad often used to travel for work and would write and record stories for me to listen to at bedtime when he couldn't be there himself.
I grew up surrounded by beautiful words, but also knowing that a writer was an ordinary person you could have a chat with. Now that I have a young family it comes naturally to me to pass that enthusiasm on.
I have always been a writer, from classroom scribbles as a child to plays as a teenager. My first taste of success was being shortlisted in the Woolwich Young Radio Playwrights competition, sadly now defunct. I suspect the awards ceremony was less glamorous than the Oscars, but it was shorter and there was free wine.
The job that wasn't about writing
The need to earn a living intervened. I also wanted to do something useful and I went to university to study law.
I was a practising solicitor for nearly ten years and learnt to combine the corporate with the creative. This often involved writing to persuade clients to do something they didn't like! During that time I worked with giants of manufacturing, construction and retail. People sometimes give me funny looks when I talk about how much I loved visiting factories, but I really did. Talking to people who create things and do clever stuff gives me a real buzz. It's even more exciting when they think their work is a bit boring. (Trust me, it isn't to people who can't do what you do.)
I changed a lot over the years and the legal industry did too. I knew it was time for a change.
The writer for small businesses
These days I help small business owners create marketing content that works for their business. I love getting to know clients and helping them to talk to their customers. Everyone has a different story about their 'why' and the work they love. To an (ahem) inquisitive person like me it's a complete joy. The best part is that I get to share those stories and each client's knowledge to help them grow their business and attract the kind of clients they'll love to work with.
When I'm not asking nosy questions in client meetings and at networking events, you'll find me trying to turn my two young sons into reasonable human beings. (That involves quite a bit of time breaking up fights, reading stories and a LOT of time picking up tiny pieces of Lego and talking about Pokemon.) I'm also a season ticket holder at Leicester Tigers rugby, where you'll find me cheering loudly on the terrace with a hip flask of single malt (the loudness of the cheering may or may not be connected to the contents of the hip flask). I'm also very partial to tea and biscuits if you live near me in Leicestershire and would like to meet up for a chat.
Are you ready to have a chat about what I can do for your business? If you'd like to talk on Zoom – click here to choose a time that works for you or email me.
Do you need resources to help you create your own marketing just a bit more easily? I have eBooks to help you: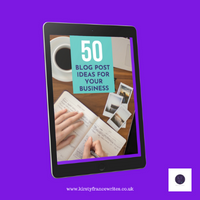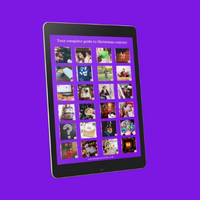 Would you rather get to know me a bit before you commit? Sign up to my mailing list for blogging hints and tips straight to your inbox every month. I hate spam (long-term vegetarian) and I will never share your details with anyone else.