"Wait a minute", I hear you cry, "isn't it a bit naff to give someone a gift voucher for Christmas or their birthday?" Well yes, it could be. I get it. I've had *those* gift vouchers. You know the ones. The ones that came from the person who doesn't know you very well but drew your name for Secret Santa (the perils of being a temp invited to the Christmas party).
Then again, I've had the other kind of vouchers. The ones from people who've bought me a book token knowing that I can spend many happy hours losing myself in Waterstones.
What if you could buy a gift voucher that made a real difference in someone's life?
A gift voucher that could take something difficult, time consuming or just plain boring off their hands? That would make them really happy, less stressed and able to spend more time with their family and friends?
Well, here it is: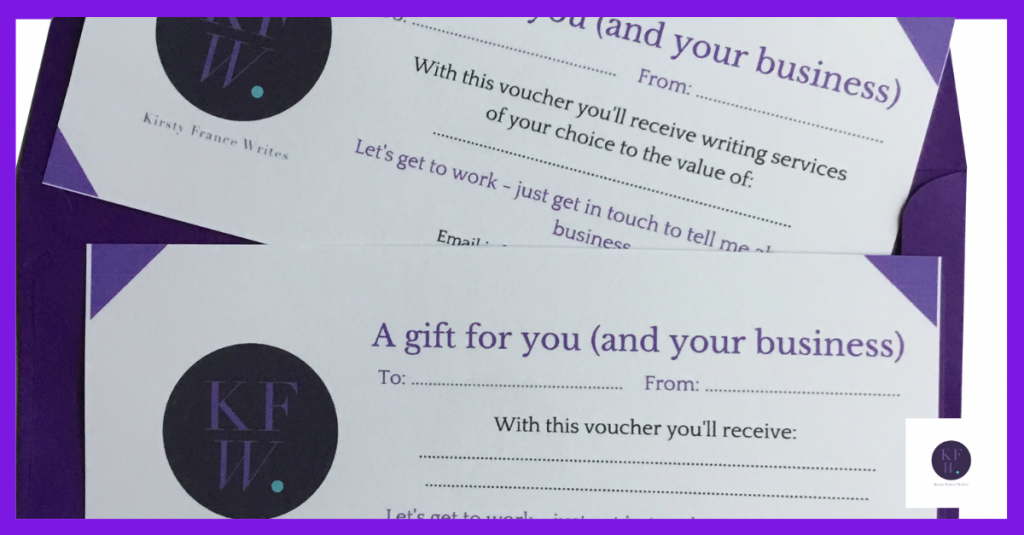 You can buy my gift vouchers right now. Best of all, they can be customised to suit whatever the business owner in your life needs. You can choose the service that they need most and give your gift knowing that all of the work is covered. That could be:
A blogging package
One off blogs
Newsletter writing
Social media content
One to one writing training
Or even brand new words for their website!
If you'd rather leave it up to them (because they know their content needs best) you can request a gift voucher of any value from £15 and up to let them decide for themselves.
Order by 11th December for Christmas delivery and you'll receive your gift voucher through the post in one of my festive purple envelopes (if you've left it to the last minute I can only deliver by email!)
Terms and conditions (aka the legal bits)
1.Vouchers are not redeemable for cash and are non-transferable. 2. Not to be used in conjunction with any other offers. 3. We are unable to offer replacements for lost or stolen vouchers. 4. Services must be pre-booked by emailing info@kirstyfrancewrites.co.uk.