My lovely husband presented me with 40 postcards for my 40th birthday, each with a different challenge.  One of them was 'drive a 2 seater sports car'.  I love driving, but have spent my entire adult life behind the wheel of various compact hatchbacks.  As much as I may aspire to a sports car, you can't fit baby seats in the back.
We have friends with suitable vehicles but I wouldn't borrow one for fear of scratching it, denting it or even breathing on it wrong.  Which is why I found myself at the Lotus factory in Hethel, Norfolk, for their 'Elise Experience'.  I was surprised to find that I was the only female driver, but not the only person celebrating a significant birthday.  The youngest participant had just turned 21 and his expression suggested a mixture of fear and excitement.  We began the afternoon with a tour of the factory.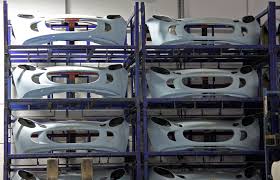 Call me weird if you like, but I love a good factory tour.  I think it's from my formative years when I visited my dad at work in the textile factories.  I can still remember the sound of dozens of sewing machines all operating at the same time and the sight of the massive containers used to dye yarn to exactly the right shade.  I'm fascinated by science and the ways it can be applied to make things work but I've never had any aptitude for it myself, so I always enjoy being provided with clever technical insights.  There were plenty of those at Lotus.  We were shown the production lines for all three of the models they manufacture at Hethel, with a particular focus on the car we were about to drive.
The Lotus Elise is a thing of beauty.  Low to the ground with wonderful curves.  As I walked out towards the track, pulling my safety helmet on, I felt suddenly apprehensive that I was going to be responsible for this stunning car.  My friend Mel, an Elise owner herself, had offered encouragement, "you can push it much further than you'd think, so be a hooligan".  My instructor asked me if I'd ever driven this type of car before.  I hadn't.  He asked if I'd ever driven on a track before.  I hadn't done that either.  "You have driven a car before, haven't you?"  Thankfully, I could respond positively to that one.
Now, before I went out onto a race track in a Lotus Elise, I thought I could drive.  After my first couple of laps, I wasn't so sure.  I reckon that if you'd put me in the car and pointed me towards the motorway, I'd have been fine.  I'm very good at putting my foot down and the grip is phenomenal.  Driving on a track completely threw me.  The track at Hethel is particularly featureless so you're guided by chicanes and cones to tell you when to brake and turn.  I was amazed at how difficult I found it to break the habit of driving on the left and use the whole track.  I reckon I got the line right once or twice, in the last couple of laps before my turn was over.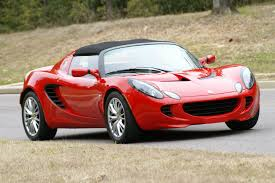 Then, it was the instructor's turn to drive whilst I got in the passenger seat.  It was phenomenal.  I've been in cars like this with good drivers but this was something else.  He knew the car, he knew the track and how to get the best out of both.  It was one of the most exhilarating experiences I have ever had.
It also highlighted the difference between the DIY approach and working with a professional.  I'm going to stick to driving my kids around, but I comfort myself that my Elise expert couldn't provide you with a perfectly honed piece of prose.
If you want to try a new approach to your content marketing, get in touch at kirstyfrancewrites@outlook.com or sign up here to receive regular updates and special offers.
For more on the 'Elise Experience' visit Lotus' website here.