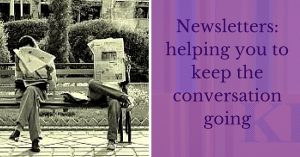 Everyone I talk to about marketing these days tells me how important it is to have an e-mail list. They're right, of course. Unless you get marked as spam, e-mail marketing is the most reliable way of keeping in contact with prospective customers. The Facebook algorithm that decides how many people get to see your posts seems to get more confusing by the day. I've lost count of the number of posts I've seen from businesses wondering if there's anyone still there.
I started sending newsletters out a few months ago but my list building efforts have been a bit haphazard so far. I've decided it's time to get organised.
List building
If you want people to sign up for your list you have to give them something they want. Some people might sign up simply to read your newsletter but there won't be many. So, you need to offer a freebie, otherwise known as an 'opt-in'. What you offer will depend on your business but it should be designed to appeal to your ideal customer.
You can approach opt-ins in the same way as you would blog posts. Think about who your customers are and what they need. What do you offer that solves their problems or makes their life better? Build your opt-in around something that they can do to improve things by themselves. I know it seems an odd thing to do. Why would you help someone avoid using your services? The thing is, offering a DIY approach via your newsletters means that your potential customer still has to do all the work themselves. They might read through your opt-in and decide they'd rather get someone else to do it for them. Then who do they call? Exactly.
I've had quite a few people tell me that they know headlines are important but they don't know where to start so I've written a free guide to help. Sign up here if you'd like a copy – there's a special offer in it for you too!
Why do I need to send newsletters?
A good newsletter can be your most effective marketing tool as it goes straight into your customers' inbox. It will help you to stay at the front of your customers' minds. Even if they're not ready to buy from you yet, they'll remember you when they are. It also offers them reassurance. If your newsletter appears regularly, they know you're still in business.
Your newsletter can also help to build your authority. If your prospective customers can see testimonials from satisfied clients they're more likely to buy. If you include details of prestigious speaking gigs or awards they're more likely to believe that you know your stuff.
Ultimately, you want people to buy. If your newsletter pops up offering something they need it's a simple step for them to get in touch.
What do I write about?
The principles of marketing via newsletters will be similar to your overall content marketing strategy. Don't just focus on sales. An 80/20 split between interesting stuff and marketing is usually about right.
There are loads of different things you could include. If you've been out and about speaking to interesting people or working on exciting new projects, include those. If you blog regularly, share a link to your latest or most popular posts. I include details of resources I've found useful but you could talk about helpful books you've read or websites you've visited.
Telling people about the bits you want them to pay for can be tricky. Focus on the benefits. How will your customers' lives be better when they've bought your product, paid for you to build their website or attended your training course? If you can offer something extra that's just for your subscribers, even better. That could be free delivery, extra support or VIP treatment.
If you need any help or want to try a new approach to your content marketing, I'm for hire! Get in touch or register here to receive regular updates, special offers and a free copy of my guide, 'Marketing magic: your indispensable guide to creating amazing headlines'.