If you've come straight to the pricing page, I admire your tenacity. You're clearly ready to get on with things.  Information on my pricing is below, but if you'd like to find out more about my services first, please click here. You'll find out more about the range of services I offer and which is the right one for you.
Blogging packages
My blogging packages are designed to give you the blogs you need at a price you can afford.  These are the main ones, but every package can be tailored to you.  Visit my packages page to find out more on these and how they work.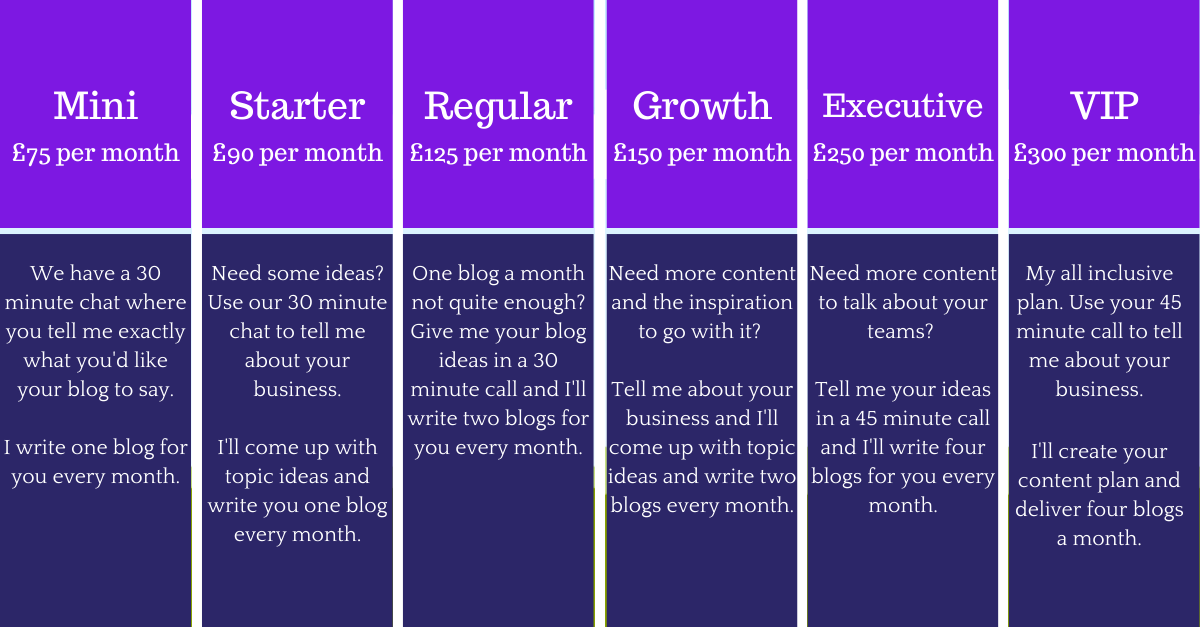 Content strategy support
We'll work together to devise a strategy that works for your business. We could achieve that in a morning over tea and biscuits or it might take a day with some follow up afterwards.  The first step is to talk about what you need so I can provide you with a quote that's tailored to you. Complete the form at the bottom of the page to book your free consultation call.
Project work
If you need support on a one off project, each quote is tailored to your needs. Visit my projects page to find out more. Guide pricing for my most popular services are below.

Or maybe you'd prefer some training?
I also offer group workshops and one on one training for small businesses who want to write their own content. Visit my workshops and training page to find out more.
One to one training
Skype – £30 per half hour. The booking can be as long or short as you need.
Face to face – starts from £100 per session depending on location. Face to face appointments are subject to a minimum 1 hour booking.
Workshops
My three hour workshops are £79 per person, subject to a minimum number of 6 attendees.
Ready to talk?
If you're ready to talk about your project or my packaged services, complete this form to book your free consultation call.
[gravityform id="2″ title="true" description="true"]