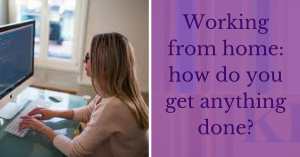 Working from home can be hugely stressful.  That's not to say that working outside the home isn't, the challenges are just a bit different.  At least if you're going out to work there's a clear distinction between home and work.  You've left the house and can't be expected to load the dishwasher or hang the washing out to dry.
When your home is your workplace you can start to find that work tasks start to seep into the rest of your life.  Often, that isn't the real issue.  You can start to find that you're expected to do the household tasks or take phone calls from your friends and family because you're "at home".  The fact that you might have a mountain of work to get through doesn't seem to register.
So what can you do?  There are, as you might expect, some practical things but you might have to have some difficult conversations too.
Separating working from home
If you're able to have a physical separation between your work and your home life, great.  In an ideal world you'd have a room somewhere that's just for you.  Personally I'd love a dedicated writing shed at the bottom of the garden.  I could escape to a refuge with a desk, sofa and a kettle.  I confess that my vision is partly based on pictures of Roald Dahl's workspace.  He's still a big influence.
However, this isn't an ideal world.  My desk is in a corner of my living room and I just have to ignore the mess of toys behind me when I sit down to write.  If I haven't stood on a piece of Lego whilst wading through, that is.  My desk is still mine, for the most part.  Things occasionally get left on it but not very often.  Hopefully you'll be able to find a space that's just for you too.
Family and friends
It gets a bit more challenging when your friends and family expect you to be able to chat any time, or ask why the washing up hasn't been done when they get home.  This can be a tricky situation and changing it sometimes takes perseverance.
Set your hours
I'm a big fan of timetabling and it can be a real asset if you've got a written timetable that's on display.  It's easy for family members to think that starting a business isn't a 'real job'.  If they can see that you've got a timetable full of tasks that fill your day their view might start to change.
I also find it useful to have a set lunchtime so if there is anything that needs doing I can get it done then.  Even when I had an office job I'd often pop out at lunchtime to buy some emergency groceries or get something mended.  The important thing is that it's on my terms.
Phone calls
If you're doing something important, put your phone on silent.  Clients will leave a message as long as you've got a clear voicemail in place.  Return anyone else's calls when you're on a break or after work and make it clear that's what you're doing.
If you've got a persistent offender you might just have to bite the bullet and tell them to stop.  If I'm going to need to duck, just let me know.
Are you working from home?  If you have any proven strategies for avoiding interruptions, please share in the comments.
If you want to outsource tasks to get more out of your day, I'm for hire! Get in touch or register here to receive regular updates, special offers and a free copy of my guide, 'Marketing magic: your indispensable guide to creating amazing headlines'.