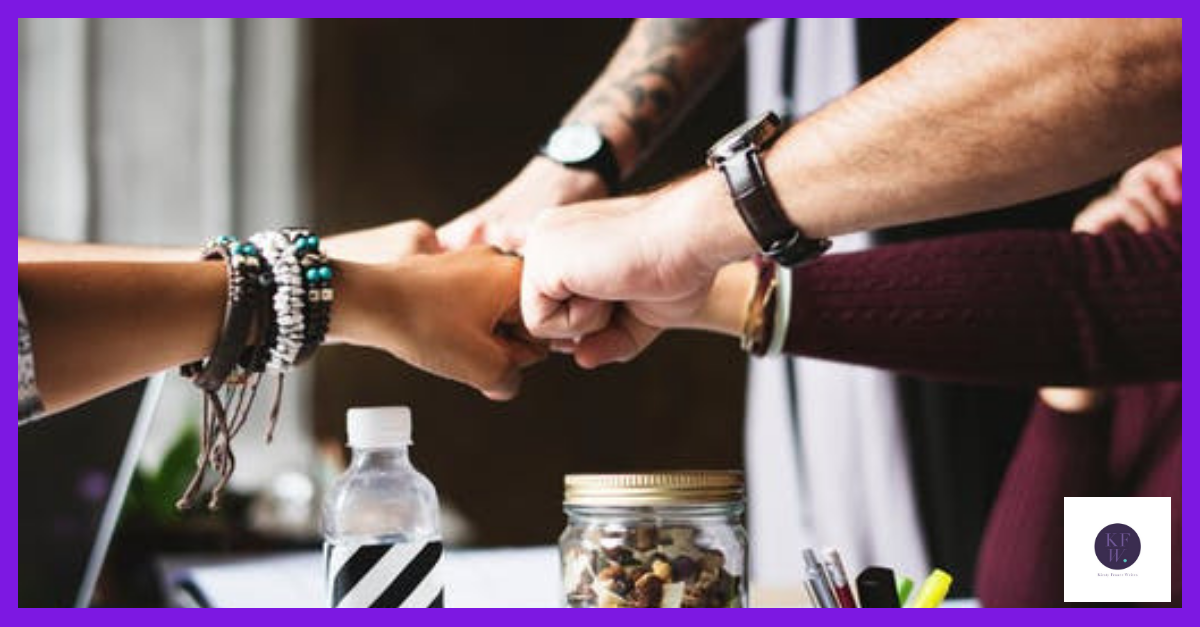 Let's face it, running a business can be lonely sometimes. If you work alone you can start to feel isolated. Even if you have people working for you, it's tough when the decision making is all on your shoulders. It's at times like this that it's important to take a breath, look around and remind yourself of all the people who are there to support you.  Who do you have on your team?
My networking group is holding an awards night soon and I've been thinking about the different people I could nominate. It's helped me to realise not just how much support I get from my business network but also the people who help me out every day.  Here are just a few…
The coach
I get all sorts of support and general wisdom from my networking group.  There's a Facebook group which means that someone always has an answer to those random questions that crop up from time to time.  However, the most consistently inspiring encouragement and guidance comes from the coach I met through the group, a lady called Jo Lee.
I used to think business coaching was a bit of a con. Why would I pay someone to boss me around or engage me in some mystical rigmarole that didn't help in the real world?  When I met Jo at a networking lunch I realised that it was exactly what I needed to help me shift from being an employee to a business owner.  Sometimes it's just a case of talking to someone who actually listens and asks the right questions.
The admin support
I don't have someone to do my admin every week.  That's mainly because my filing cabinet is under my desk and I don't really want to force anyone to kneel in my presence! Plus GDPR compliance gets even more stressful when you share information with other people in your team.
However, over time I realised that I was getting a bit overwhelmed with day to day stuff.  Keeping accounts up to date, organising meetings and remembering where I saw that article that I wanted to refer to for the next blog post started to get in the way of doing the actual work.  Sal Francis from Salataris is the queen of systems. I also suspect that she loves stationery even more than I do.  We spent a morning together a few months ago and I've been wonderfully organised ever since.  It may be a genuine miracle.
Keeping family life functioning
It goes without saying that my family are part of my team.  The kids are in charge of random questions and mess creation and the husband and I pick up everything else between us. However there are a couple of people on the team who stop the wheels from falling off completely. Somehow the six hours between school drop off and pick up shrink down to feel more like six minutes. My childminder gives me an extra couple of hours to get things done.  More importantly, she feeds them.
A lot of people are surprised/envious when I say I have a cleaner. It was one of the things we thought we'd give up when I became self-employed.  But as the time came closer we realised that it just wasn't going to happen. I love having a clean house, I just don't want to spend my spare time achieving it. I'm willing to part with a bit of cash to save everyone the stress.
Why am I telling you this? It's because I used to be really bad at asking for help and now I'm not. It also doesn't hurt to look around once in a while and say thank you to the people who've made a difference to you.
If you need a bit more support in your business, sign up to my mailing list to get fabulous writing tips and a few special offers straight to your inbox every month.  You'll also receive a copy of my free guide to discover whether working with a writer is right for your business.  Just click on the image below!

Further information
If you're in the East Midlands and would like to work with Jo at Life Atlas Coaching, here's her website.
Sally Francis at Salataris offers a range of services including website design and maintenance – you can find here here.