eBooks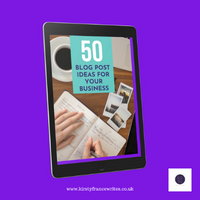 Do you want to create content marketing that shows your customers what you do and how you help them? If you want to write your own content to find out for yourself what works for your audience, my eBooks were created to get you off to a great start.
Sometimes the hardest thing about content marketing and blogging is knowing what to talk about. My eBooks will give you idea to spark your imagination, from engaging blog topics to planning your Christmas marketing.
Open one of these books, choose a topic and you can start writing straight away. You won't have to stare at a blank screen waiting for inspiration to strike.
They also make a great gift for the business owner in your life.