I can never resist an invitation to link up with another writer and Mummy Barrow is one of my favourites.  When I saw her blog about her desk this morning and her invitation to show mine off, I set to work.  So, here's my (rather messy) desk.  As you can probably see, my efforts to keep it to work items have only been partially successful so far.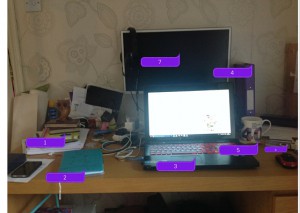 My inbox – OK, I don't actually have a box but my wise old owl keeps an eye on everything, especially my notebooks which have all my client information and exciting plans in them.
Diary – I would be lost without it.
Laptop – I'm a freelance writer working from home so absolutely nothing happens without this.
The folder with the tax receipts and my accounts book.
Tea mug – I turned 40 last year and this was a present from my Mum.  My Dad died in 2010 and she knew it was exactly what he would have chosen so it's a present from him really.
Other people's business cards – I'll find a better way to store them eventually!
Extra TV – my husband makes software for TV companies and always needs an extra screen if he ever has to work from home.
If anyone else would like to share their desk with me (or mine with anyone else) feel free to link!