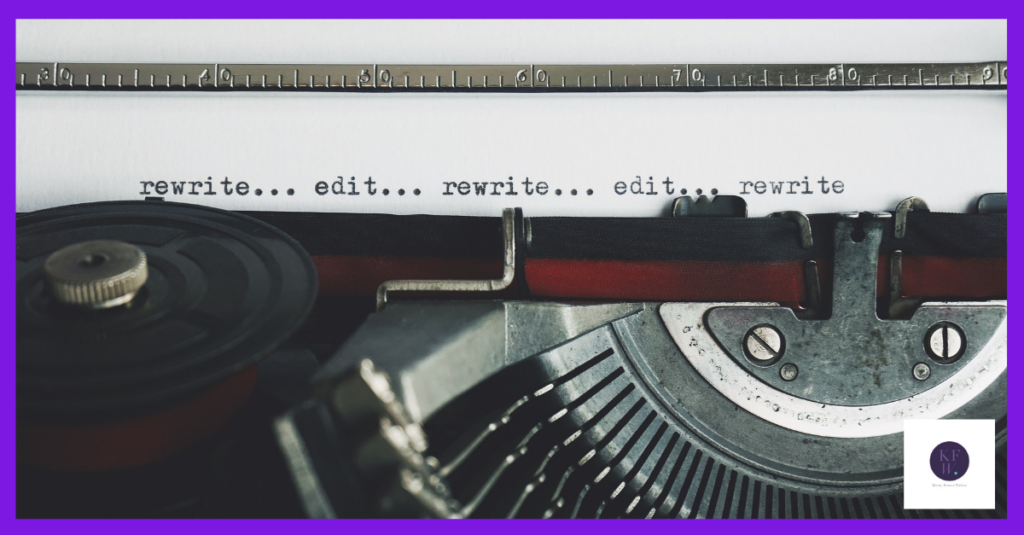 Have you ever sat down, ready to create new marketing content and found yourself grinding to a complete halt? You either can't get going or you write a few sentences and delete them again because they sound rubbish. We've all been there (even me). The trouble is that we think we have to write something amazing first time. The truth is, we don't. No-one has to read your first draft of anything. You can write the scrappiest sentences you like because editing is your friend. As long as the stuff you write gives you something to work with, you can go back and edit it later. So, set yourself free and write whatever you want. Then follow my five editing tips to help you make it better.
1. Use your spelling and grammar checker
Yes, it's really that simple. If you write using Word or Google docs, they have inbuilt spelling and grammar checker. You don't have to follow every grammar recommendation – sometimes sticking to your original phrasing makes it sound more like you.
If you have a WordPress website and use Yoast's plugin for SEO, it also has a readability checker. In my experience it's not 100% reliable but it has some useful tips for editing sentences that makes them easier to read.
2. Have you stuck to the point?
I mentioned this in my last blog (which you can read here). There's no faster way to lose your readers than by wandering off on constant tangents. Read through your blog and ask yourself whether every paragraph talks about the original topic. If it doesn't, take it out, but save it somewhere else. It could be useful for a future post. (Can you tell I love recycling?)
3. Does it make sense?
This can be a tricky one to gauge. Your content might make sense to you but be bewildering to someone else. You're an expert but maybe your readers aren't. The first thing to check for is jargon. If you're using phrases that only people in your industry understand, take them out.
Getting a second opinion is often a good idea. Tidy up your content then ask someone outside your industry to read it and see if they understand what you mean.
4. Check your sentence length
This is supremely geeky, but it will help you to write better content. Using a variety of different sentence lengths makes things easier to read. It's mainly because it makes your writing closer to normal speech.
You don't have to count every sentence (I can hear the sigh of relief from here), but if a paragraph sounds a bit monotonous when you read it, have a quick count. You might find that all your sentences are the same length.
5. Are there superfluous words?
Your writing will be clearer if you keep things simple. Words like 'really' or 'very' can add emphasis, but not if you use them in every sentence. Stephen King famously said that you should never use adverbs. Why say that someone shouted loudly? If it was quiet, it wouldn't be shouting. (My grammar checker suggested that I take 'loudly' out of that sentence, which probably means that you don't need to worry about it too much if you follow tip #1!)
Would you like a second pair of eyes on your content? Or would you rather hand it over altogether? Book a call here and let's have a chat to see how I can help you.